Promoting Track & Field in the Bay Area
Sunshine State Games Track and Field Roots Run Deep through Tampa's Johnson Family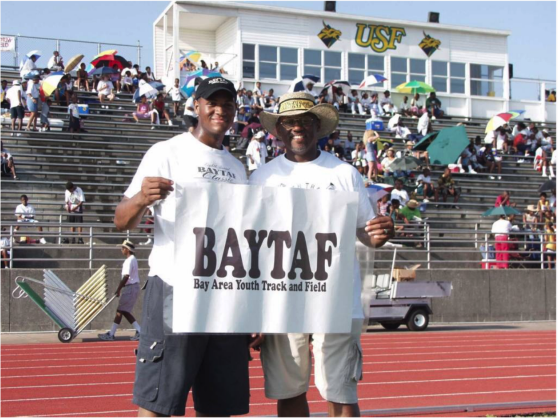 TALLAHASSEE, Fla. - Flashback to the 1994 Sunshine State Games in Tallahassee, the Johnson family, from Tampa, was well represented at the Mike Long Track on the campus of Florida State University
From the early 1990s and into the 21st century, Nate Johnson, the family patriarch, was involved in the Sunshine State Games as a coach of the Christian Cruisers Track Team, worked as a track and field official, and served as sport director.

In 1994, Nate's two sons, Marqus and Garrett, and his daughter, San'tera, won Sunshine State Games gold medals in the shot put and discus. Before going on to success on the Florida State University Track and Field team, Marqus and Garrett competed in the Sunshine State Games from 1998-2000.

Nate held the title of Track and Field Sport Director from 2003-08. During that time, he coached his grandson, Jamari, through the SSG Track and Field ranks as a competitor and member of a family of discus throwers. At the 2014 Championships in Clearwater, he had a discus throw of 163 feet to beat the next best throw by more than 50 feet. He also had a silver medal winning shot put of 44 feet, missing a gold medal by half an inch. Jamari began throwing at the age of four, according to his grandfather, Nate, but is now "weaning himself away from track and field."

Garrett's post-SSG success at Florida State is well documented. He set records in shot put and discus and in 2005 earned the title of "Top shot putter in school history," throwing 67 feet 0.75 inches at the USA Senior Track and Field Championships. He returned to the Sunshine State Games in 2006, to serve as a spokesperson along with fellow SSG alum and Olympian, Jennifer Rodriguez.

Marqus also threw the shot put and discus at Florida State from 2001-04.

Garrett Johnson remembers his Sunshine State Games experience as a fun event and a sport carnival. "The Sunshine State Games promote sport and a healthy lifestyle," he said. "Sports harness power and are a great platform for Florida athletes. It is a great way to improve a community through sport."

Nate claims he has one more grandchild to coach before, "hanging up his track shoes." He is currently working with his granddaughter, Akari Isaac, a 16-year old attending Tampa Bay Tech High School.

Since 1991, Nate, and his late wife, Carmen, have been the driving force behind the Bay Area Youth Track and Field, Inc. (BAYTAF). The organization was created out of a need to unify efforts in promoting the sport of youth track and field throughout the Tampa Bay Area.

In 2015, the Tampa Bay Lightning honored Nate and Carmen Johnson as Lightning Community Heroes of the season. The Johnson's, who received a $50,000 donation from the Lightning Foundation and the Lightning Community Heroes program, donated the money to Bay Area Youth Track and Field, All Sports Community Services, and three other non-profit organizations.

They were recognized for helping develop two generations of leaders using track and field as a tool to cultivate youth goal setting, character development, self-esteem, and the desire to give back to their local community. Youth members that have gone through their track and field program have progressed to become college graduates, entrepreneurs, doctors, and even a Rhodes Scholar.

The Rhodes Scholar mentioned is Garrett, who studied at Oxford in 2006. He went on to become an entrepreneur, developing SendHub, a cell phone messaging system for youth and their parents who may not have access to computers. Its use expanded into businesses, sports teams and youth group conferences. Currently living in Silicon Valley for the last 10 years, Garrett is the Co-founder & Executive Director of the Lincoln Network, a network where liberty and technology meet.

While Nate may be hanging up the track shoes of coaching, he is still involved in Track and Field in the Tampa Bay area. The 2019 BAYTAF Classic featured nearly 2,000 youth and open and master's athletes. He serves as the officials' coordinator for University of South Florida meets and the Spike Classic at Embry-Riddle University.

Two years ago, as part of the BAYTAF Classic, Nate and his current wife, Melinda, began presenting the Field Event Challenge, with an emphasis on teaching youth skills needed to participate in field events.

With 30 years of experience at the BAYTAF Classic under his belt and three successful offspring in field events, Nate Johnson, and his family are the right people for this initiative.